!- the name of this form is ss.html -!>

SIDE SEAMED MOCCASINS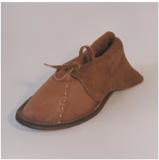 CLICK ON IMAGE TO MAGNIFY


Style #SS Men's Side Seam Moc @ $128.00
Style #SSA Women's Side Seam Moc @ $128.00

PLEASE NOTE:
Prices do not reflect shipping and handling charges.


SHIPPING CHARGES:
Add $14.00 for each pair of moccasins ordered.
All moccasins are shipped via U.P.S..
Arrow is proud to offer you the novel look of our handcrafted Side Seam Mocs. Another one of our researched designs that has the look of authenticity with its soft Elk Hide Tops and Durable Chrome Leather Soles. They should provide you with long wear and service.We are sorry to say that we cannot resole this style of moccasins.
---
CLICK HERE FOR:
OUR HOME PAGE | | NEXT PAIR OF MOCS | | OUR FAQ PAGE | | OUR MOCCASIN PAGE

ARROW MOCCASINS© 1997,
http://www.arrowmoc.com
P.O.Box 699, Hudson, Massachusetts 01749
TEL. [978] 562-7870, FAX [978] 562-1286