!- the name of this form is muk-8.html -!>

MUKLUK SPORT BOOT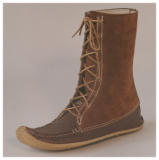 CLICK ON IMAGE TO MAGNIFY
Click Here to see a diagram of this boot's construction

Style #MUK-8 Mukluk Sport Boot @ $300.00

PLEASE NOTE:
Prices do not reflect shipping and handling charges.


SHIPPING CHARGES:
Add $15.00 for each pair of moccasins ordered.
All moccasins are shipped via U.P.S..
Arrow Moccasin is proud to offer you these finely handcrafted Sport Boots. Our Mukluk Sport Boot is being worn by Treffle Bolduc of Conway, New Hampshire, one of America's top snowshoe makers, who qualifies it as "the best I have ever worn." He says "it is the warmest, lightest and most comfortable of all winter footwear. Unexcelled for snowshoe use."
Rawhide Laces

Brass Eyelets

Completely Pile-Lined

Suede Tops

Non-slip, Plantation Crepe Sole

Stitches back stitched

Sole cemented with Special Adhesive Cement, then stitched with a double row of Lock Stitches

Made wide to accommodate extra socks and heat circulation.

Sno-Seal waterproofing supplied with every pair.

Bowhunters love these because they weigh only one pound each and are extremely quiet.
---
CLICK HERE FOR:
OUR HOME PAGE | | NEXT PAIR OF MOCS | | OUR FAQ PAGE | | OUR MOCCASIN PAGE

ARROW MOCCASINS © 1997,
http://www.arrowmoc.com
P.O.Box 699, Hudson, Massachusetts 01749
TEL. [978] 562-7870, FAX [978] 562-1286