!- the name of this form is proleads.html -!>

PROFESSIONAL LEADS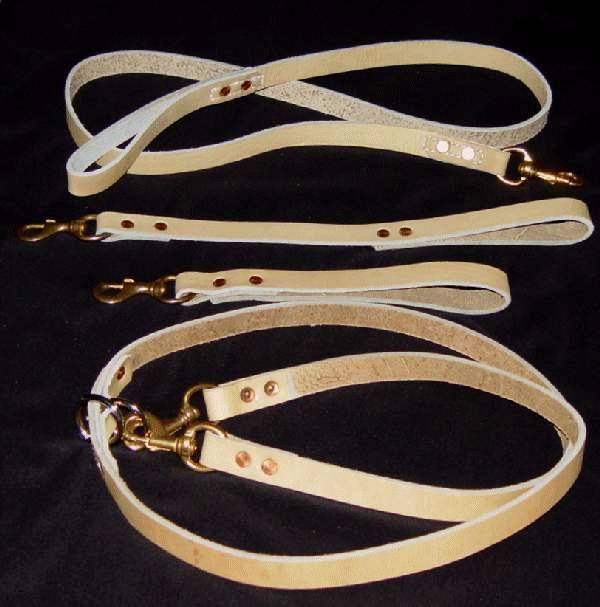 PROFESSIONAL LEADS

Please contact us for current pricing and shipping charges
(FROM TOP TO BOTTOM)
No.L-6: 7/8" x 6' - Prestretched Lead
No.L-21: 7/8" x 21" - Traffic Lead
No.L-14: 7/8" x 14" - Handle
No.DBL-1: 7/8" x - Double Lead (Multi-Purpose)
No.L-10: 7/8" x 10' - Ten Foot Tracking Lead (not shown - spliced, stitched and riveted)
No.L-15: 7/8" x 15' - Fifteen Foot Tracking Lead (not shown - spliced, stitched and riveted)
Our Special Leather performs best when utilized in our Leads. Arrow Leads are Working Leads, made to outlast all others. Our leads are cut from Swiss Hides, which produce the thickest leather in the world. Only the Butt portion of the hide is used, (ie: the part between the britch or rear of the hide, to the shoulder). The bellies and shoulders are removed, leaving only the very thickest portion. These butts are then specially tanned so that the fibers are tightly joined.
All sewing is done with a lock stitch machine. Every stitch has a knot in it.
Rivets are made of copper and are hand forged.
Snaps are solid brass and coated.
Six and ten foot leads are prestretched. This very important feature is worth the many extra hours it takes. No one wants to take the time to do this, but we know how important it is in dog training to have a Lead that will not feel like a rubber band or a piece of nylon. When you snap this Lead the dog instantly feels the command instead of wondering "Was it a pull, tug or snap?"
*All prestretched six foot leads may vary in length. We make them as long as the leather will allow.
PLEASE NOTE:
Please contact us for current pricing and shipping charges
Prices do not reflect shipping and handling charges.
All items are shipped via U.P.S..
---
CLICK HERE FOR:
||OUR HOME PAGE | | COLLARS | | OUR FAQ PAGE | | K9 PRODUCT PAGE||
|| CLICK HERE FOR ARROW PRODUCTS K9 ORDERING PAGE ||

ARROW K9 PRODUCTS © 1997,
http://www.arrowmoc.com/K9
P.O.Box 699, Hudson, Massachusetts 01749
TEL. [978] 562-7870, FAX [978] 562-1286