!- the name of this form is k9faq.html -!>

ARROW MOC'S K-9 PRODUCTS FACT SHEET

CLICK ON QUESTIONS SEE THE ANSWERS
CLICK ON ARROW HEAD TO RETURN HERE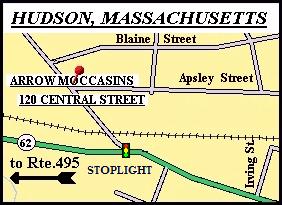 Our Workshop is located at 120 Central Street in Hudson, Massachusetts.
From 495, take Exit 26, go right at bottom of ramp onto route 62, travel exactly one mile, to a hanging blinking light. At light make sharp left. Look for long low factory building. Arrow Moccasin is on opposite end of building. If you find yourself in need of further directions please give us a call at


[978] 562 - 7870

Shop hours are Monday-Friday from 9:30 am til 4:00 pm EST, Saturday 10:30 am til 5:00 pm EST and closed on Sundays.
If making a special trip to see us, please call us at [978.] 562 - 7870, before you come to insure the availability of an item.

Arrow Moccasins are created using extra heavy, quality Swiss hides. Switzerland is the only country in the world that produces hides thick enough, up to a ¼ " thick, to use in making moccasins without a conventional shoe sole. The hides are tanned in England; the same country that tans the best bridal leathers.

A special tanning process is used by a small, family owned tannery, that no one in the world has been able to copy. The fibers are tightly joined in the process; yet are pliable enough to allow the leather to mold to your feet and breathe.

Our moccasins are completely hand sewn with a Dacron Polyester thread. This thread is coated with beeswax before use and is the very best on the market. Every pair is sewn with a knot in each stitch. We guarantee the stitching for the life of the moccasin.

We accept exchanges or refunds, as long as the moccasins have not been worn. If you require an exchange, please tell us what you would like. Also, include a copy of the credit card receipt, if you used a card.

CLICK HERE FOR:
||OUR HOME PAGE | | K9 PRODUCT PAGE||

ARROW K9 PRODUCTS © 1997,
http://www.arrowmoc.com/K9
P.O.Box 699, Hudson, Massachusetts 01749
TEL. [978] 562-7870, FAX [978] 562-1286