!- the name of this form is 4wl.html -!>

LINED LACE BOOT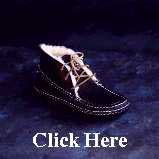 CLICK ON IMAGE TO MAGNIFY


Style #4WL Men's Double Sole Lace Boot @ $241.00

Style #4AWL Women's Double Sole Lace Boot @ $237.00

PLEASE NOTE:
Prices do not reflect shipping and handling charges.


SHIPPING CHARGES:
Add $15.00 for each pair of moccasins ordered.
All moccasins are shipped via U.P.S..
This boot has been a long time favorite, because of its high cut, helping to give you more ankle support, and the three eye tie in the front, making for a snug fit. It features real sheepskin to keep your feet the warmest they can be. With the exception of the Sheepskin Lining, this boot is the same as our other Lace Boot. Offering warmth and comfort, while stylish. This moccasin is meant for cold weather use and can stand rugged wear and extreme abuse that the great outdoors can supply.Crafted in fine English tanned Swiss Leather, they should provide you with long service.
---
CLICK HERE FOR:
OUR HOME PAGE | | NEXT PAIR OF MOCS | | OUR FAQ PAGE | | OUR MOCCASIN PAGE

ARROW MOCCASINS © 1997,
http://www.arrowmoc.com
P.O.Box 699, Hudson, Massachusetts 01749
TEL. [978] 562-7870, FAX [978] 562-1286