TRAIL BOOT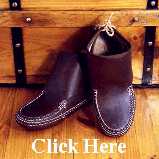 CLICK ON IMAGE TO MAGNIFY

Style #3 Men's Single Sole Trail Boot @ $190.00
Style #3A Women's Single Sole Trail Boot @ $188.00
Style #3W Men's Double Sole Trail Boot @ $206.00
Style #3AW Women's Double Sole Trail Boot @ $202.00
PLEASE NOTE:
Prices do not reflect shipping and handling charges.

SHIPPING CHARGES:
Add $15.00 for each pair of moccasins ordered.
All moccasins are shipped via U.P.S..
The Trail Boot, over the years has become a staple on the Rendezvous circuit. It features a curled over tip to keep dust and twigs out. The back tie with rawhide makes for a looser fit.
---
CLICK HERE FOR:
OUR HOME PAGE | | NEXT PAIR OF MOCS | | OUR FAQ PAGE | | OUR MOCCASIN PAGE
ARROW MOCCASINS © 1997,
http://www.arrowmoc.com
P.O.Box 699, Hudson, Massachusetts 01749
TEL. [978] 562-7870, FAX [978] 562-1286