GLADIATOR MOCCASINS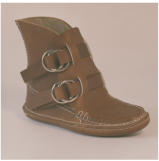 CLICK ON IMAGE TO MAGNIFY

Style #1WH Men's Gladiator Mocs @ $216.00
Style #1AWH Women's Gladiator Mocs @ $216.00
PLEASE NOTE:
Prices do not reflect shipping and handling charges.

SHIPPING CHARGES:
Add $15.00 for each pair of moccasins ordered.
All moccasins are shipped via U.P.S..
Hear the roar of the crowd as you enter the arena of the day with the rugged look of our Gladiator Mocs! Arrow Moccasin is proud to offer you these fine handmade four ring boots. Based on our Ring Boot, these, too, are crafted entirely in fine English tanned Swiss Leather. They should provide you with long service. This style will stand the test of time, making a bold statement with its big rings and straps, which offer ease of adjustment and quick removal. The double ring cinch straps provide this high top moccasin with the convenience of no lacing and stylish comfort for everyday use.
---
CLICK HERE FOR:
OUR HOME PAGE | | NEXT PAIR OF MOCS | | OUR FAQ PAGE | | OUR MOCCASIN PAGE
ARROW MOCCASINS © 1997,
http://www.arrowmoc.com
P.O.Box 699, Hudson, Massachusetts 01749
TEL. [978] 562-7870, FAX [978] 562-1286